A Child Is Born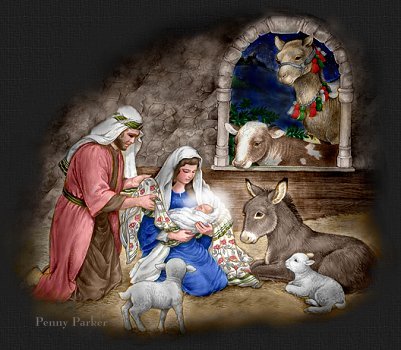 The Prophet spoke in days of old.
His Voice was strong.
His words were bold.
"Behold! A maiden shall give birth.
Her Child, God's Son, shall rule the earth.
"And we shall call Him Prince of Peace,
For where He rules, all wars shall cease,
And sin and death shall hold no fear.
Behold! The time is coming near."
Along a dusty, winding road,
A little donkey bears his load.
Young Mary, great with Child, must ride,
While patient Joseph plods beside.
To Bethlehem they make their way.
"We'll count you there," the rulers say.
The sky grows dark.
The day is gone, and still they travel,
on and on.
The road is cold. The road is long.
It seems no place for a donkey song.
But sing out, little donkey. Bray!
The Prince of peace is on His way.
At Bethlehem the inns are filled.
Young Mary shivers, tired and chilled.
But then a landlord, by God's grace, says,
"you may use my stable-place.
"And there as midnight moves to morn,
The tiny Prince of peace is born.
The quiet oxen see His birth,
This Child God sent to rule the earth.
Sing, you oxen, large and slow.
Songs of welcome rumble low.
As He rests on Mary's arm,
Your straw-sweet breath will keep Him warm.
Young Mary smiles down at her Son,
a helpless Babe,
and yet the One the prophet long ago
foretold in voice so strong,
in words so bold.
She thinks of when the angel came
and told her of the Baby's name.
Still smiling, she stands up to lay
Her Jesus on the manger hay.
Sing, young Mary! Sing with joy
as you gaze at your newborn Boy.
In God's great plan you've played your part.
Now sing a glad song in your hearts.
The fields are dark. The fields are still.
And sleepy shepherds drowse until God's
glory shatters through the night.
Then sleepy shepherds shake with fright.
An angel speaks,
"Oh, do not fear. I bring you joy.
I bring you cheer.
At Bethlehem near break of morn,
The Savior of the world was born!"
Stop your shaking, shepherds.
Sing! This news changes everything.
The Lamb of God has come to save.
So stand up, shepherds. Sing! Be brave!
The Angel says,
"Now God designed a sign for you.
The Babe you'll find in swaddling
clothes on bed of hay.
He's lying there this very day."
Then round the angel rank on rank of angels gather,
all to thank and praise the Lord with holy mirth,
Because He sent His Son to earth.
Sing, you angels. Glory sing.
Let all earth and heaven ring.
Let your songs our songs increase.
Glory, glory, good will, peace!
And when the angel song is through,
The shepherds know that they must do.
At once to Bethlehem they run to
find the Prince of peace, God's Son.
Into the stable dark and small,
They crowd, those shepherds,
sheep and all.
And Baby hand holds woolly fleece,
the tiny, sleepy Prince of peace.
Sing a lullaby. Oh, sing!
Let the little sheep bells ring.
Gently now, you woolly sheep,
Sing the Prince of peace to sleep.
That little Prince, so humbly born,
would someday die with cross and thorn,
But, raised by God to life above,
now rules the earth with peace and love.
No earthly throne sets Him apart.
Instead, He rules within each heart,
and when we all our struggling cease,
We feel His love. We know His peace.
Sing, you heavens! Sing, you earth!
Sing about the Christmas birth.
Sin and death and war shall cease.
He's come,
the tiny Prince of Peace.